The reason I am writing this piece though gross is to appeal to the blogosphere especially to those bloggers who are truly dog lovers to help create awareness about this inhuman act. I certainly cannot stand this anymore. When I was 13 I had a dog she was snowy white with tan markings on her ears. One day she was able to get out of our gate without our knowledge. Feeding time came so I went looking for but could not find her. One stand by cab driver asked me if the dog I was looking for was white with tan markings on her ears and I said yes. He told me that a man in a car beat my dog with a club and placed her inside a sack. I asked the guy if he had gotten the license plate of the car but said he did not but was able to describe the make of the car. He added that he heard the man saying my dog would make such a good meat because she is clean and well taken care. I tried to look for my dog but I never found her. I believe she was eaten and served as meat!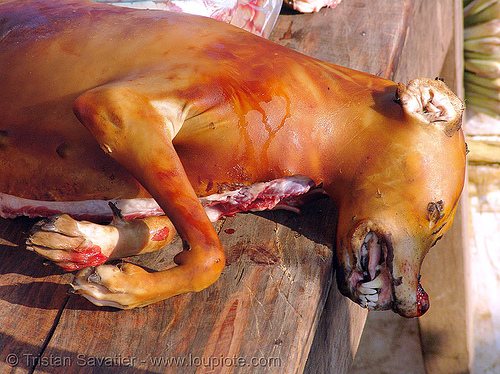 I hope no one will have to go through this ordeal but I could only hope. Dogs are kept as pets and as a member of the household not to be butchered. Aren't there enough poultry and livestock to consume? I just hope that we would be one in saying no to this kind of business.
Related Articles:
Dogs Man's Bestfriend? Not For Everyone!
Dog Meat Shop